Latest Bitcoin Cash News
Today marks the a new beginning or the end of Bitcoin Cash assuming Craig Wright wins the hash rate game and mine empty blocks before Roger Ver mining pools. For all we know, this is going to be a supremacy war. As Craig and Calvin Ayre commit to save the original Satoshi protocol from dissolution, the market is jittery. Therefore, before tomorrow we may witness serious price capitulation and inevitable losses for ordinary investors.
Interesting read. Bitmain should stop forcing Hash wars and look after their affairs:https://t.co/amGMMLSqzX

— Calvin Ayre (@CalvinAyre) October 17, 2018
Related Read: BCH Fight: Bitcoin Cash Bashing Heats Up, Rivals Duke it Out Ahead of Hard Fork
Ahead of the software upgrade that promises to be a tough battle, Bitcoin Cash ABC supporters including mining pools under the control of Bitcoin Cash ABC proponents as Bitcoin.com shall direct all their hash rate and mine blocks with Bitcoin ABC and Bitcoin unlimited software.
In an announcement, the pool made it clear that they shall use private hash rate to perhaps save the network by mining BCHABC but normal payout in BTC, BCH or otherwise will continue as normal.
Now, the question miners are asking is if Bitcoin.com pool action is even legal. It appears that Bitcoin.com will force miners to channel their hash rate to BCH and later compensate them. But if payments are made in Bitcoin, BCH owners will have to contend with losses because it means either the pool would have to sell BCH for BTC or use their own BTC.
BCH/USD Price Analysis
Weekly Chart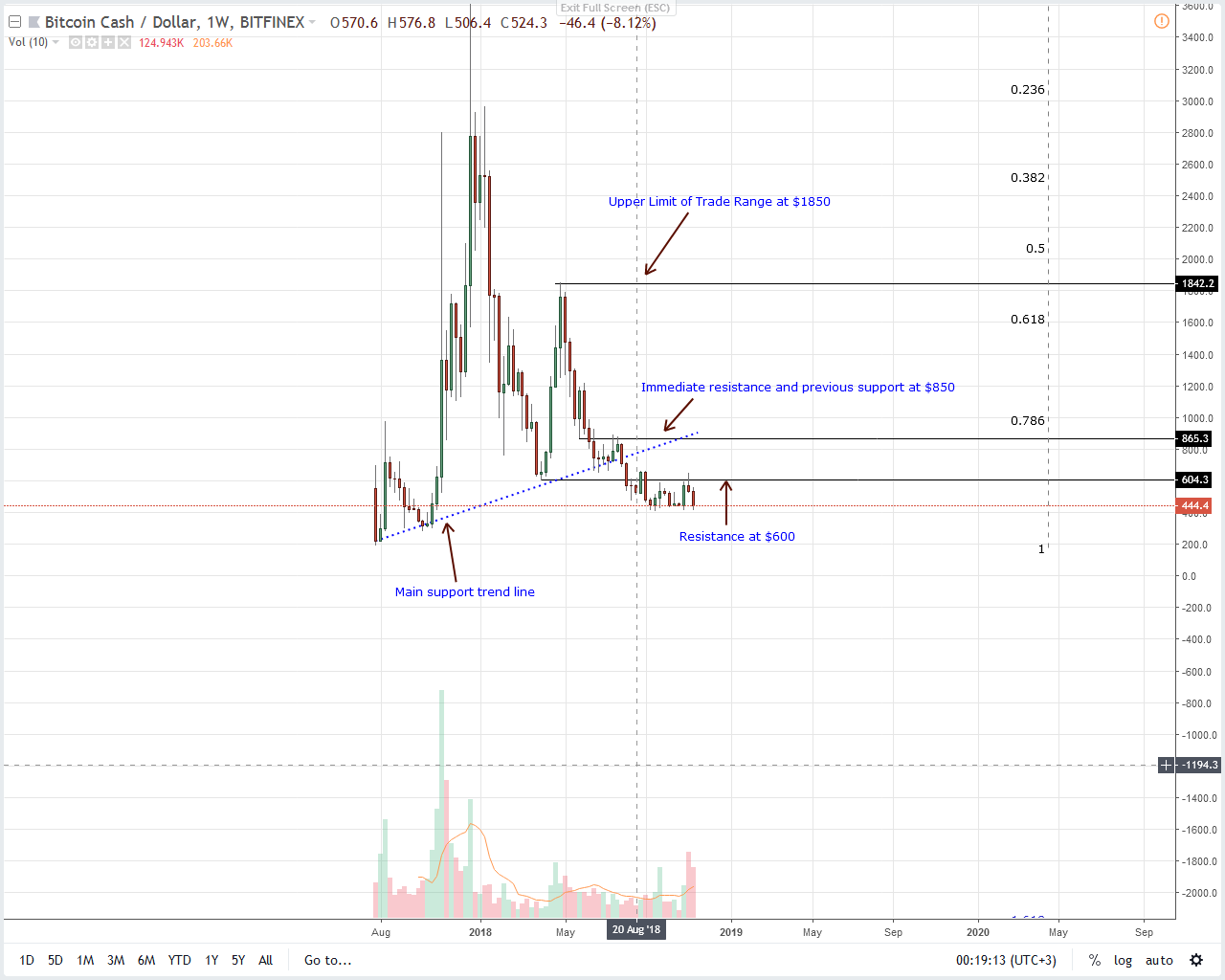 Hours before the software upgrade, BCH/USD is down 32 percent on a weekly basis. Besides, it is $34 away from retesting the main support level at $400. All in all, none of our conservative trading conditions are live. However, like in our previous BCH/USD trade plan, the bear breakout pattern set in motion by early August could go live today should this software upgrade go awry.
Notice that Craig Wright has made it clear that he is willing to "sacrifice" and even if it will cost him money, he shall channel everything they got to see BCHSV go live. That means, in the run-up, uncertainty reigns. As such capital could flow out of BCH further exerting pressure on the coin. In that case, depending on the exchange, traders should hold off trading aware that losses below $400 shall inevitably ignite sellers aiming at $300 or BCH all time lows.
Daily Chart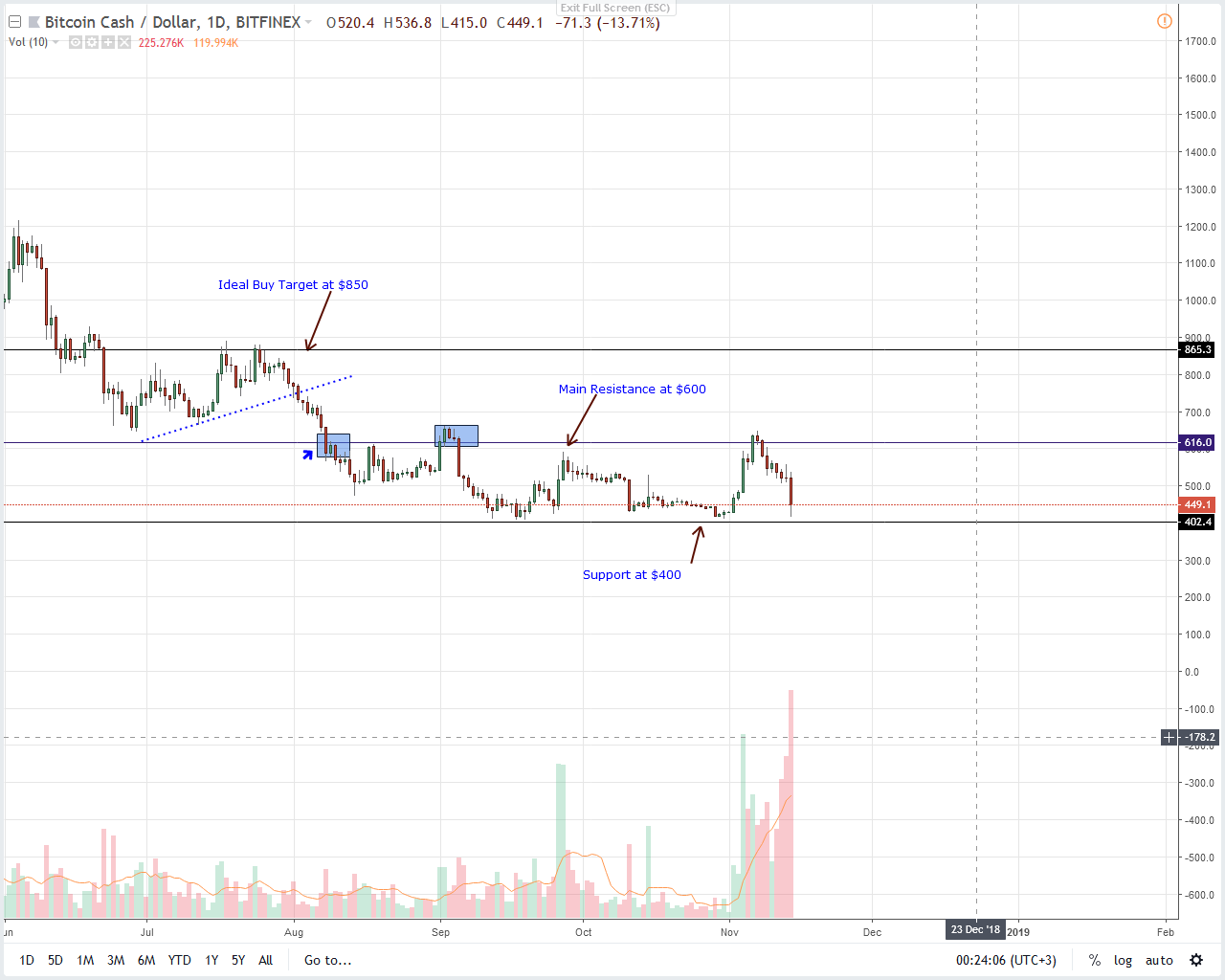 From a risk-reward point of view, it won't make sense for traders—even conservative or aggressive—to sell BCH/USD at this level. Prices are $34 from the main sell trigger line and support at $400. But, from previous BCH/USD trade plan, patience mean holding off until prices race below $400 or erupt above $600 in a break out trade confirming or nullifying break out pattern of early August. Either way, first targets will be $300 or $850.
All Charts Courtesy of Trading View
Disclaimer: Views and opinions expressed are those of the author and aren't investment advice. Trading of any form involves risk and so do your due diligence before making a trading decision.